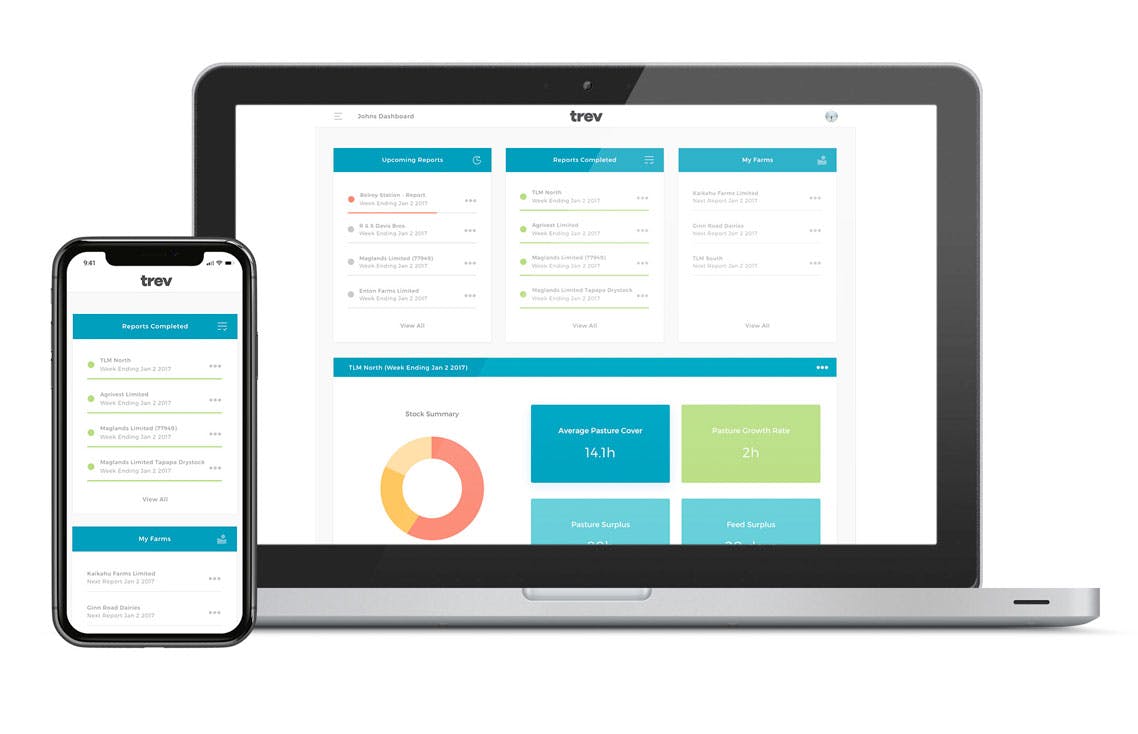 Like all good mates, Trev is here to share the load.
Trev helps capture timely and reliable information to build an electronic vault of your farm's operational data. This includes pasture management, supplementary feed, livestock, cow condition, milk production, compliance matters and more. Once you've started building your farm intelligence database Trev helps you to gauge on-farm performance across multiple companies, business units and system types.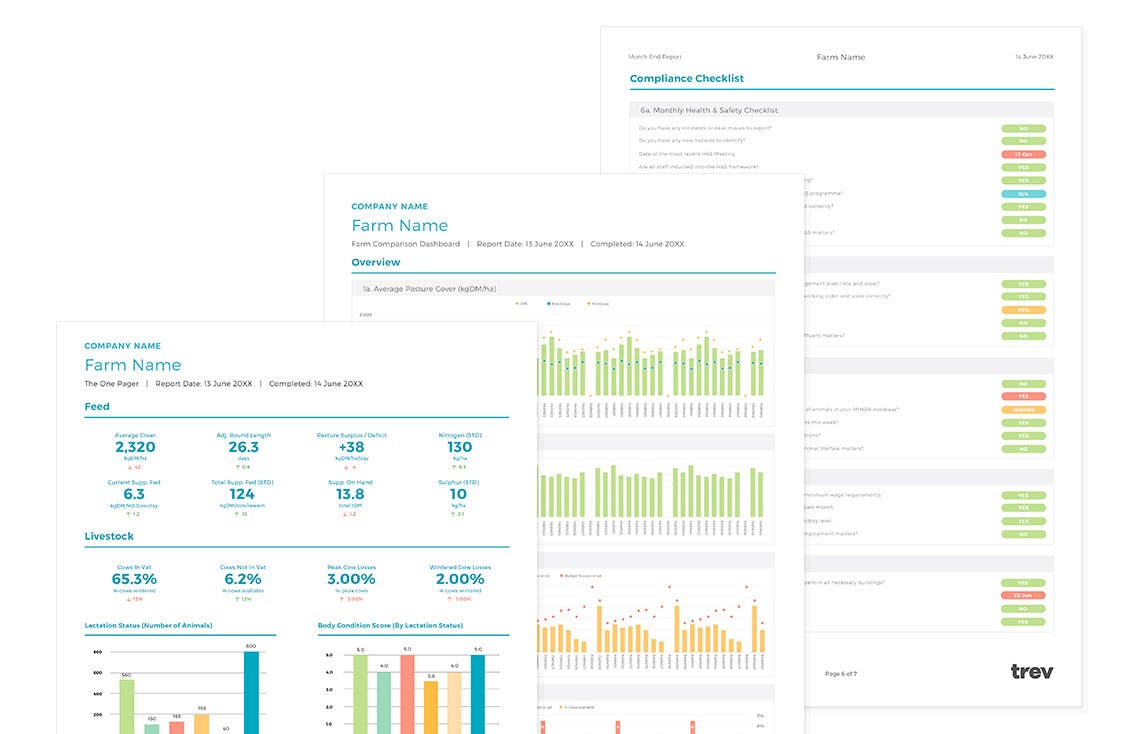 Get it done in less than 10.
Trev is big on efficiency. When it comes to recording data you'll only be asked for the critical information, making reporting a breeze and doable in less than 10 minutes.
Share the right info with the right people.
A trusted confidante, Trev is great at sharing the right level of detail. Create outputs for farm managers, senior managers, shareholders, farm consultants or even your neighbours. Automatically download a range of PDF reports and dashboards, or generate web links to share unique reports in real time.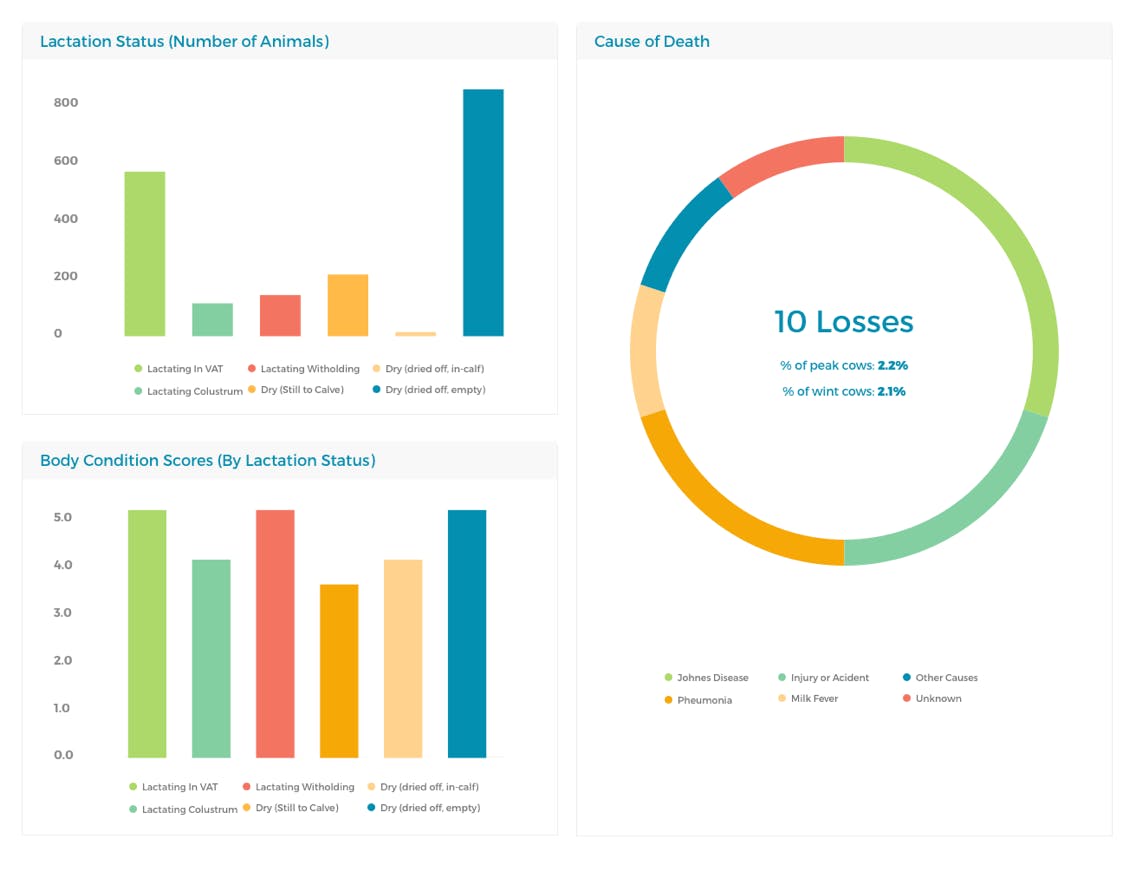 Do it once and do it right.
Ever reliable, Trev knows what the go is and will help you figure a few things out. Take advantage of the range of live reports to:
Compare individual farms to quickly identify performance outliers
Create reports to assess performance at a hub, regional or company level
Facilitate discussion group data sharing with intra/inter company benchmarking
Monitor trends and delve deeper into areas of interest
Stay across compliance matters with traffic light dashboards
Features
Data Capture
Quick and easy collection of data for pasture, supplementary feed, livestock management, compliance and general commentary.
Electronic Vault
Data you collect is held in your own farm intelligence database that can be easily accessed whenever you need it.
Live Dashboards
Choose from a range of dashboards that cut your data without getting too technical, providing oversight across your operation.
Visibility
Bring a range of stakeholders into the same conversation. Provide access to farm staff, management, boards, shareholders and others.
Benchmarking
Compare the performance of farms across multiple companies, business units and system types.
Customised Reporting
Generate custom reports for specific farms and control the level of detail to enable sensitive information sharing.
Access From Anywhere
Based in the cloud, Trev is accessible from anywhere, on any device at any time. All you need is an internet connection and web browser.
Safe and Secure
Your data is always safe, secure and under your control. Transmitted via SSL encryption, nothing is ever exposed.
Export Data
Your data is your data. Easily create PDF dashboards or download the data behind your reports in CSV format to perform advanced calcs.
Get a Quote
Trev annual subscriptions start from $500 per farm. A one-off $100 per farm onboarding fee also applies.
Drop us a line to find out more.
Prices shown are in NZD and are GST exclusive.
See our terms of use for details.