Meet Trev, your trusty farm reporting software.
Enabling productive, profitable and sustainable outcomes for your business.
Supporting the farmer journey.
Whether it's grass growth, body condition score, or recording fertiliser applications, New Zealand farms are entering an age of data that offers a golden opportunity to help boost farm performance, lift profitability and improve sustainability. See how Trev's supporting our farmers on this journey.
Looking for a better way to gauge farm performance? 
Get Trev in your toolbox to simplify the farm reporting process.
Build and control your farm database to drive productive, profitable and sustainable insights to share across your farming operation.
Get the best out of your farming operation. 
Build
Capture all you need in 5-10 minutes a week, wherever you are and on any device. 
Pair
Seamlessly pair your info with industry data to gain another level of insight.
Analyse
Quickly get a handle on performance with a range of reports and dashboards.
Learn
Get the most from your data to instantly identify outliers and areas that require attention.
Share
Share your reports, or invite your trusted circle to Trev and utilise a range of different access levels.
The right tool makes all the difference.
All prices below are listed in New Zealand dollars and are GST exclusive. A one-off $250 per farm Onboarding Fee also applies.
Start with the essentials to collate and visualise your data.
$840
PER FARM PER YEAR
Suitable for single and multi-farm businesses to track pasture, supplements, fertiliser, livestock, maintenance, environment, compliance, commentary and more.
Let your data do the hard work with Trev's insights platform.
$1400
PER FARM PER YEAR
Suitable for single and multi-farm businesses to unlock additional value on farm with proactive and comparable insights, including automated identification of farm system opportunities.
Need more customisation? Talk to us about tailoring Trev.
POA
PER FARM PER YEAR
Suitable for multi-farm businesses and rural professionals looking to automatically transfer data to an internal business system, or produce bespoke dashboards and output reports.
We work with the cream of the crop.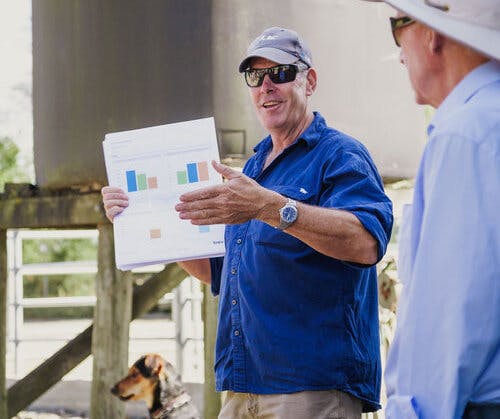 "We're really lucky today with the technology that we can implement on farm. 20 years ago you just wouldn't be able to be an absentee owner with a farm 3-4 hours away and stay across it to the extent we can. We have so many fantastic tools for remote working and staying connected to the business - be it milk quality data, managing our pivots, keeping across farm reporting, or staying in touch with our people."
Murray King, Kingsway Farms, Nelson & Canterbury
Murray's Top 5 Farming KPIs
Tune in to Trev's podcast
One season, six episodes, twelve passionate industry people yarning about their insights and experiences inside and outside the farmgate. Hosted by Will Burrett, brought to you by Trev.
Get in touch.
Drop us a line to find out more.